Bio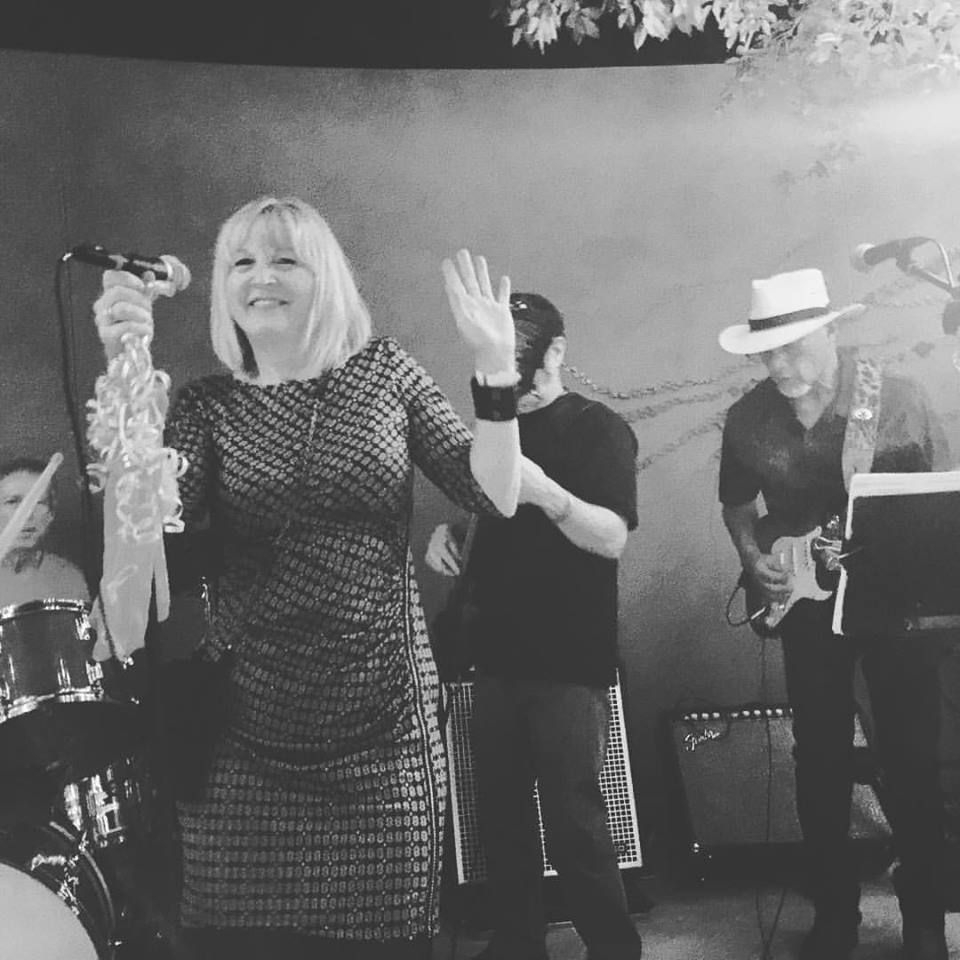 This Is Us
Get To Know The Band
Powerhouse singer K.C. Camarillo is the heart and soul of the band. She rocks the room with her soulful style.  KC began her musical career as a child in her hometown of  Oakland, singing and acting in musicals at Woodminster Amphitheater. She was strongly influenced by the  music she heard growing up in the East Bay . KC has been inspired by Bonnie Raitt, Lydia Pense, Tower of Power, James Brown and Chaka Khan. She's got soul and she's super bad!
   Talented rhythm guitarist and band leader  David Camarillo is the driving force of The BluesBurners tight rhythm section. He shows off his Oakland roots as he lays down some funky Eastbay grooves. Like all of his bandmates, DC's been playing music for over 40 years. He's got a passion for the music and it shows.  DC's energy  always gets the party started!
 Lead guitarist and vocalist David Ray Burke has been playing guitar since he was a teen in Northern California. He can play and sing any style of music.His excellent musicianship has been a huge assett th the band for the last seven years.  DRB not only impresses on guitar, he's a real heartbreaker when he sings the blues for you. Davey has played with such legendary NorthBay bands as Sonny & The Blenders and The Aces. With an exciting style and great vocals too, Dave is an essential addition to The BluesBurners signature gritty guitar driven sound.
Dynamic drummer Marlin "Iron Cobra" Weitzel has a sweet style that forms the heartbeat of the band. He's known among fellow musicians for his impeccable timekeeping. Formerly with Michael Dolan and the infamous Moron Project, Marlin has played extensively with fine musicians from his home state of Ohio all the way to the Bay Area, covering everything from funk to rock.  Marlin also provides excellent background vocals. 
Providing the bottom groove, Bassist Jim Allen is a veteran studio musician and live performer. Raised in Los Angeles, Jim studied music at UCLA and worked with many outstanding musicians including Richie Havens, Kai Winding, Danny Elfman and members of Oingo Boingo.Jim is a true pro who has played in clubs and festivals throughout California. He has shared the stage with Charlie Musselwhite, Lydia Pense and Cold Blood, Rick Derringer, Jefferson Starship, Shuggie Otis, and Bruce Willis. After relocating to the Bay area, Jim has  performed and recorded with many local musicians including Sonny & The Blenders, Jackie Payne, Bautista, Jami Jamison.
 David Schrader and Jim Passarell, the BB horn section!  Simply the best at what they do,  these guys have been in demand for decades. The BluesBurners are extremely happy to add David on Sax and Jim on trumpet to the lineup. D & J's stellar musicianship and years of stage and recording experience combine to bring another degree of professionalism and excitement to the band.  Here's just a little sample of their combined resume: The Drifters, Volker Striffler, SF Symphony, The Temptations, Shade, The Coasters, San Francisco Saxophone Quartet, and now The BluesBurners!